Serves: 4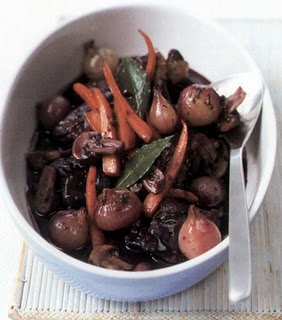 Calories/serving: 440
WW points per serving: 8
Fibre: 1.3g Protein: 31g Fat: 22g
3og/1oz butter, or rendered duck or chicken fat
1 2.2-2.6kg/5lb-5lb 12oz duck, skin removed, jointed into 8 pieces
a cloves garlic, peeled and finely chopped
5ooml/16floz dry red wine
5og /2 1/2oz mushrooms, thinly sliced
2 sprigs parsley, chopped
2 small bay leaves
1 teaspoon fresh thyme or 1/4 teaspoon dried
1 teaspoon salt
8 small white pickling onions, peeled
2 carrots, peeled and quartered
1. Preheat the oven to 18o°C/35o°F/gas 4.
2. Melt the butter or fat in a large frying pan. Add the pieces of duck and brown over a medium heat, then remove the duck with a slotted spoon to a casserole dish.
3. Add the garlic to the fat and cook for 1 minute.
4. Add the red wine, mushrooms, parsley, bay leaves, thyme and salt. Bring to the boil, stirring constantly, and cook until the sauce thickens.
5. Place the pickling onions and carrots into the casserole dish with the duck and pour over the sauce. Cover and bake for 1 hour.