SERVES: 4
CALORIES/SERVING: 340
WW POINTS PER SERVING: 6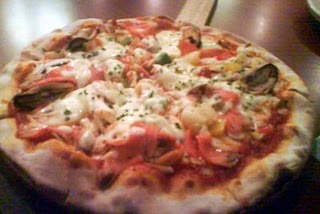 PREPARATION TIME :10 MINUTES
COOKING TIME: 15 MINUTES
for the dough
225g (8oz) strong white bread flour
1 tsp salt
15g (1/2oz) fresh yeast or 2 tsps dried
150ml (1/4 pint) warm skimmed milk
for the topping
300ml (1/2 pint) tomato passata
1 red pepper, seeded and finely chopped
1-2 fresh red chillies, sliced
1 tbsp chopped fresh oregano
450g (1Lb) mixed cooked seafood (prawns, mussels, squid)
2 tbsps low-fat salad dressing
50g (2oz) low-fat Cheddar cheese, grated a few basil leaves, shredded
1 Preheat the oven to 200C, 400F, Gas Mark 6.
2 Place the flour and salt into a large mixing bowl and make a slight well in the centre.
3 Dissolve the yeast in the milk, add to the flour and mix together with the blade of a round-ended knife, adding more liquid if required.
4 Turn out on to a floured surface and knead well to form a soft dough. Cover with a damp cloth for 10 minutes.
5 Knead the dough again. Divide into four equal parts. Roll out into four small circles and place on a non-stick baking tray.
6 For the topping, spoon the passata over the pizza bases, leaving a border around the edge of each one. Scatter with the red pepper, chillies and oregano and arrange the cooked seafood on top.
7 Mix together the salad dressing and the cheese and blob on top.
8 Bake the pizzas near the top of the oven for 10-15 minutes.
9 Just before serving scatter with the shredded basil. Serve hot.