Serves: 4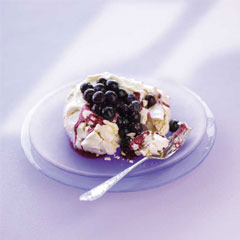 Calories/serving:103
WW points per serving: 2
PREPARATION TIME: 10 MINUTES
COOKING TIME: 15 MINUTES
Choose a creamy low-fat yogurt for a smoother, luxurious finish.
225g (8oz) blueberries
1 tablespon Madeira wine
2 tablespoons golden caster sugar
zest and juice of 1 lime
225g (8oz) low-fat Greek yogurt
2 tablespoons Amaretto liqueur
1 fresh egg white
1. Place the blueberries, Madeira wine, sugar and lime into a small saucepan. Bring to the boil and simmer gently until the blueberries are soft and the liquid has become syrupy. Remove from the heat and allow to cool completely.
2. Place the yogurt in a mixing bowl and stir in the Amaretto and the cooled blueberries.
3. Whisk the egg white into stiff peaks and gently fold into the blueberry and yogurt mixture. Spoon into individual glasses and chill until required.