Serves: 6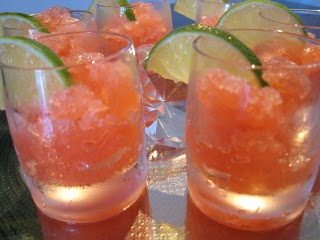 Fibre og, protein 1g, fat og
Calories/serving: 70
WW points per serving: 1
1 medium cantaloupe melon, peeled, deseeded and chopped
25oml/8floz water
1 teaspoon grated lime zest
6oml 2floz fresh lime juice
5og/20z granular sugar substitute
1. Puree the melon in a food processor fitted with a steel blade.
2. In a small saucepan bring the water, lime zest, lime juice and sugar substitute to the boil. Stir in the cantaloupe.
3. Pour into a 33-cm/13-inch by 3.5-cm/9-inch cake tin. Place in the freezer and scrape often with a fork to break up the layers of ice as they form.