Chicken Stuffed with Goat's Cheese
Serves: 4
Calories/servinig: 243
WW points per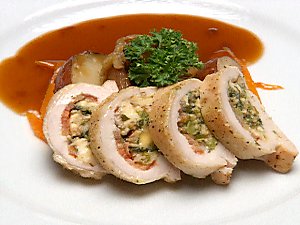 serving: 4
Fibre: o.3g Protein: 33g Fat: 9.5g
6og/2 1/2oz goat's cheese. crumbled
2og/3/4oz finely chopped basil
1 tablespoon chopped sun-dried tomatoes in olive oil
1 small onion, peeled and finely chopped
1/2 teaspoon dried oregano or 1 1/2 teaspoons fresh, finely chopped
1/2 teaspoon salt
4 skinless chicken breast fillets
6oml/2floz dry white wine
1. Preheat the oven to 18o°C/35o°F/gas 4. Oil a glass baking dish.
2. In a small bowl combine all the ingredients except the chicken and wine and blend well. Pound the chicken breasts until thin, then spread the mixture evenly on to the breasts and roll them up. Fasten with cocktail sticks.
3. Arrange the chicken in the baking dish so the rolled breasts do not touch each other. Pour the wine over the chicken rolls and bake for 45 minutes.