Crepes with Strawberry Coulis
Serves 5
Fibre 1.6g, protein 46g, fat 24g
Calories/serving: 268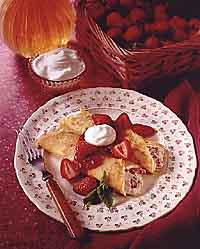 WW pointe per serving: 5
125ml/4floz double cream
3 tablespoons water
1 1/2 tablespoons granular sugar substitute
1 egg
1 egg white
2 tablespoons unsalted butter, melted
3 tablespoons soy flour
2 tablespoons wholewheat flour
Strawberry Coulis:
125g/4 1/2oz sliced strawberries
3 tablespoons water
1 tablespoon granular sugar substitute
125ml/4floz double cream, whipped to soft peaks
1.
In a blender, mix the first six ingredients until smooth, then add the
flours, blending until smooth. Transfer to a bowl and leave to stand
for 10 minutes. To make the coulis, clean the blender and puree the
strawberries, water and sugar substitute until smooth.
2. Spray
a15-cm/6-inch non-stick frying pan with oil and heat over a medium-low
heat. Spoon 2 tablespoons of batter into the frying pan and immediately
tilt to coat the bottom. Cook until the bottom of the crepe is evenly
browned and the top is dry and set, which should take 40 to 60 seconds.
Loosen around the edge and then under the creonto the first), spraying
the pan each time. Cover the crepes loosely with foil to keep warm.
3.
To serve, fold two warm crepes in half with the browned side facing out
and arrange slightly overlapping. Spoon 2 tablespoons of the sauce over
the top and add a dollop of cream in the centre.