Serves: 4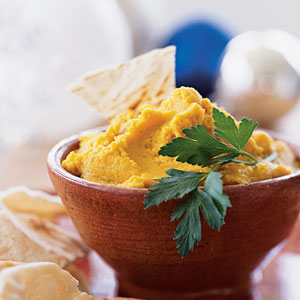 Preparation time: 10 minutes
Cooking time: 1 hour + 1 hour standing
Calories/serving: 245, 13g protein, 9.5g fat, 28f carbohydrate,
10g dietery fiber, 30mg sodium, 1030kJ
A good source of vitamins A, B1, B2, B3, E, potasium, magnesium, calcium, iron and zinc
* 220g dried chickpeas
* 2 garlic cloes, peeled
* 2 tablespoons tahini
* 60 ml lemon juice
1. Place the chickpeans and 1 litre water in a large saucepan, bring to the boil, then cover and cook for 1 minute.Turn off the heat and
leave to stand for 1 hour.
2. Drain the chickpeas and cover with fresh water. Bring to the boil, cover and simmer gently for 1 hour. Do not discard the cooking liquid.
3. In a food processor or a blender, process the chickpeas with the gerlic, tahini and lemon juice, adding enough of the chickpea cooking liquid to make a thick paste.
Tips
Use hummus as a spread, dip or serve with labouleh salad.