Mexican bean bites with red pepper sauce
SERVES 4
PREPARATION TIME: 20 MINUTES
COOKING TIME: 10 MINUTES
Calories/serving: 109
WWpoints per serving: 2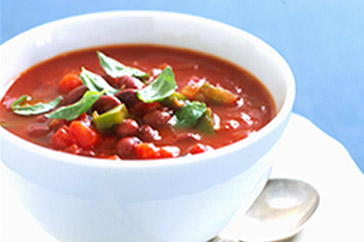 Fat: 3.4g
1 red pepper
1 X400g can red kidney beans, rinsed and drained
1/2 small red onion, chopped
1 garlic clove, crushed
2 tablespoons chopped fresh coriander
1/2-1 tbsp jalapeno chillies in brine, drained and chopped
1/2 x 200g can chopped tomatoes
1/4 tablespoons smoked paprika
salt and freshly ground black pepper
sunflower oil spray
1. Place the red pepper under a hot grill and cook, turning it, until blackened and blistered all over.
2. Meanwhile, put the beans in a food processor and blend for about 20 seconds or untilThopped and chunky but not pureed. Tip into a bowl and fold in the onion, garlic, coriander and jalapenos and season with salt and black pepper. Mix well and then form into 24 balls. They can be
refrigerated at this point.
3.Place the grilled pepper in a plastic bag to steam for 10 minutes. Remove the skin and seeds from the pepper, roughly chop the pepper and put into a food processor with the tomatoes and paprika and blend until smooth. Pour into a small pan, season with salt and black pepper, and heat gently.
4. Spray a large non-stick frying pan with a little sunflower oil spray, add the bean bites and warm for 3-4 minutes, rolling them gently over in the pan to heat through. Repeat if necessary with the remaining balls and serve with the sauce.