Serves 2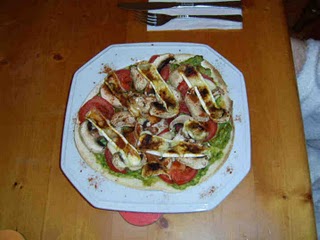 Calories/serving 148
WW points per serving 3
Preparation time: 10 minutes
Cooking time: 25minutes
4 large open mushrooms
2 medium onions, sliced
225g (8oz) courgettes, sliced
1 small aubergine, sliced
1 large red pepper, seeded and finely sliced
1X400g can chopped tomatoes
2 garlic cloves, crushed
2 tablespoons chopped fresh thyme
olive oil spray
salt and freshly ground black pepper
fresh basil to garnish
1. Place the mushrooms on a baking tray and lightly spray with olive oil spray. Place under a hot grill and cook for 3-4 minutes on each side.
2. Preheat a non-stick frying pan or wok. Add the onions and dry-fry until soft. Add the courgettes, season with salt and black pepper, and cook for a further 2-3 minutes. Pour into
a saucepan.
3. Add the aubergine and red pepper to the frying pan, season and dry-fry for 4-5 minutes. Transfer to the saucepan. Pour the tomatoes into the frying pan, add the garlic, and
thyme, bring to the boil, and then pour over the vegetables. Place the saucepan on the heat and simmer for 10 minutes.
5. Spoon the vegetables on to the mushrooms. Just before serving, sprinkle with fresh basil.