Serves: 4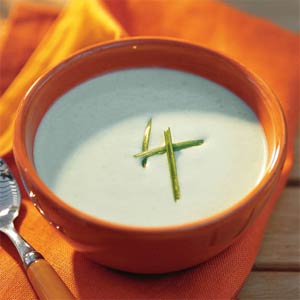 Preparation time: 5 minutes + 30 minutes refrigeration
Calories/serving: 175
* 1 large ripe avocado
* 750 ml cold chicken stok
* 60 ml lemon juice
* 1 teaspoon grated lemon zest
* 250g low-fat natural yoghurt
* 1 small handful mint, plus extra mint leaves, to serve
1. Place the avocado flesh into a food processor or blender with the remaining
ingredients and process until smooth.
2. Cover and refrigerate for 30 minutes, or place in the freezer for 15 minutes to chill.
Serve garnished with mint.
Tips
If you want a vegetarian meal use vegetable stock in place of the chicken stock.