Aubergine and spinach pasta bake
SERVES: 4
Calories/serving: 300
WW points per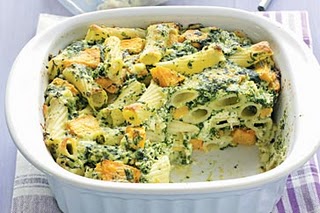 serving: 6
PREPARATION TIME: 10 MINUTES
COOKING TIME: 30 MINUTES
175g (6oz) [uncooked weight] rigatoni pasta
2 vegetable stock cubes
225g (8oz) young spinach leaves, shredded
1 red onion, finely chopped
1 aubergine, diced
2 garlic cloves, crushed
1 red pepper, seeded and finely chopped
1 X 400g can chopped tomatoes
1 red chilli, seeded and finely chopped
8-10 basil leaves, shredded
115g (4oz) low-fat Cheddar cheese, grated
salt and freshly ground black pepper
1. Preheat the oven to 190C, 375F, Gas Mark 5.
2. Cook the pasta in plenty of boiling water with 1 vegetable stock cube until al dente. Drain well, and stir in the shredded spinach leaves.
3. Meanwhile, preheat a non-stick frying pan or wok. Add the red onion and dry-fry for 2-3 minutes until soft. Add the aubergine, garlic and red pepper and cook for a further 6-8 minutes until the aubergine starts to colour.
4. Add the tomatoes, chilli and remaining stock cube and bring the sauce to a gentle simmer. Season to taste with salt and black pepper.
5. Pour the pasta into a large ovenproof serving dish. Cover with the sauce and then sprinkle with the shredded basil leaves and grated Cheddar cheese.
6. Bake in the oven for about 15-20 minutes until golden brown on top.