Fried carrots and green chillies
SERVES: 4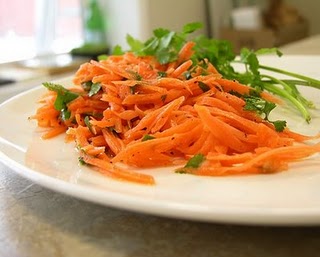 CALORIES/SERVING: 59
WW POINTS PER SERVING: 1
PREPARATION TIME: 10 MINUTES
COOKING TIME: 10 MINUTES
450g (1lb) carrots, coarsely grated
1 red onion, sliced
2 small green chillies, sliced
pinch of stock powder
1 tsp cumin seed
1 tsp ground coriander
zest and juice of 1 lime
1 Using the coarse side of a cheese grater, grate the carrot into a large mixing bowl. Add the onion along with the remaining ingredients and mix well.
2 Preheat a wok or non-stick deep-sided frying pan. Add the carrot mixture and cook quickly over a high heat for 5-6 minutes, tossing well.
3 Serve hot as a vegetable accompaniment or cold as a spicy salad.