Serves: 6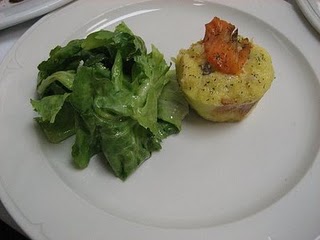 Calories/serving: 126

WW points per serving: 2
Fibre: 1g Protein: 13g Fat 5g
140g/ 5oz cooked chicken, finely chopped, or raw prawns, peeled and finely chopped
3 water chestnuts, finely chopped
6 mushrooms, finely chopped
2 spring onions, chopped
1 tablespoon sherry
4 eggs, beaten
1 teaspoon salt
75oml/1 1/4 pints pasta
12 spinach or lettuce leaves
1. Preheat the oven to 15o°C/3oo°F/gas 2.
2. Combine the chicken or prawns, water chestnuts, mushrooms, spring onions and sherry in a bowl. Mix well, then divide the mixture evenly between six ramekins.
Beat the eggs, salt and pasta together. Pour into the ramekins and cover with the spinach or lettuce leaves.
3. Place in a large roasting tin and pour in enough boiling water to come halfway up the sides of the ramekins. Cover the tin with foil and bake for 30 minutes or until the mixture is set. Serve in the ramekins.