SERVES 4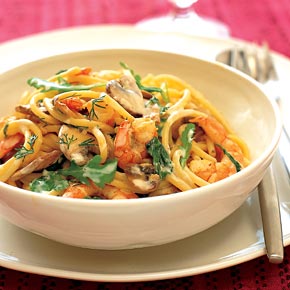 CALORIES/SERVING: 281
WW points per serving: 5
PREPARATION TIME: 20 MINUTES
COOKING TIME: 30 MINUTES
225g (8oz) [uncooked weight] pasta
1 vegetable stock cube
1 red onion, finely chopped
2 garlic cloves, crushed
1 red pepper, seeded and finely diced
115g (4oz) mushrooms, sliced
1 X 400g can chopped tomatoes
1 red chilli, finely sliced
2x160g packs cooked jumbo eggs
salt and freshly ground black pepper
1 tbsp finely chopped fresh chives to garnish
1 Cook the pasta in boiling salted water with vegetable stock cube.
2 Meanwhile, preheat a non-stick frying pan or wok. Add the onion and dry-fry for 2-3 minutes until soft. Add the garlic, red pepper and mushrooms and cook for a further 2-3
minutes.
3 Add the tomatoes and chilli. Bring the sauce to a gentle simmer and add the eggs to heat through. Season to taste with salt and black pepper.
4 Drain the pasta and pour into a serving dish. Spoon the sauce over and sprinkle with the chives.