Serves: 4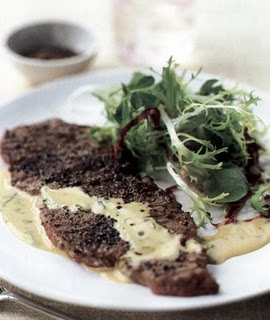 Calories/serving: 486
WW points per serving: 9
4 sirloin steaks, pounded to 3-mm/1/8-in thickness
freshly ground black pepper, to taste
90g/3 1/2oz butter
2 teaspoons dried rosemary leaves, crumbled, or 1 tablespoon fresh, finely chopped
2 teaspoons dried sage leaves, crumbled, or 1 tablespoon fresh, finely chopped
125ml/4floz cognac, warmed
185ml/6floz double cream
2 teaspoons Worcestershire sauce
2 tablespoons Dijon mustard
1. Covet both sides of the sirloin sleaks with the ground black pepper, pressing it firmly into the steaks.
2. Melt the butter in a large frying pan and add. the rosemary and sage.
3. Add the steaks and brown quickly on both sides. Pour the warm cognac ovet the steaks and ignite. When the flame goes out, remove the steaks from the frying pan and keep warm.
4. Add the cream, Worcestershire sauce and mustard to the pan juices. Stir well and simmer for 3 minutes. Pour over the steaks and serve immediately.