Chicken and spinach lasagne
Serves 4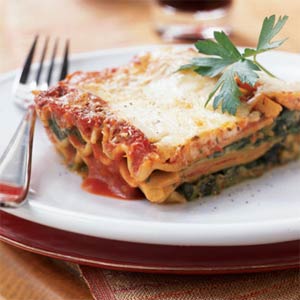 Calories/serving 508
WWpoints per serving 10
Preparation time 25 minutes
Cooking time 25 minutes
4 chicken breasts, skinned and boned
1 small onion, chopped
1 small red pepper, seeded and diced
1 X 500g jar tomato pasta sauce
1 tablespoon chilli paste or powder
lOOg (3 1/2oz) fresh spinach
6 lasagne sheets
400g low-fat white sauce
50g (2oz) low-fat Cheddar cheese, grated
1. Preheat the oven to 180C, 350F, Gas Mark 4. Preheat a non­ stick frying pan or wok.
2. Cut the chicken into strips and dry-fry in the non-stick pan for 5-6 minutes, until cooked. Add the onion and cook for 2 minutes. Add'the red pepper and cook for a further 2 minutes. Add the pasta sauce and chilli. Simmer, uncovered, for 10 minutes, stirring occasionally. Remove from the heat.
3. Wash and roughly chop the spinach and add to the tomato and chicken mixture.
4. Place half the tomato and chicken mixture in a medium-sized lasagne dish and arrange three lasagne sheets on top. Add the remaining mixture and then the remaining lasagne sheets and top with the white sauce. Sprinkle the grated cheese on top.
5. Place in the oven and bake for 20-25 minutes.