Chicken Wings Recipe – 8 points
Serves: 6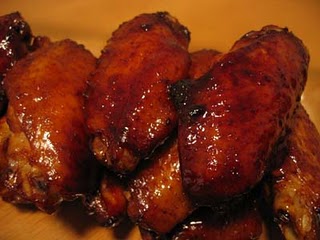 Calories/serving: 410
Fibre 0.5 g, protein 28.4 g, fat 29.2g
WW Points per serving 8
750 g chicken wings ( about 12)
250 ml soy sauce
2 tablespoons granular sugar substitute
60 ml white wine
2 garlic cloves, peeled and mashed
60 ml sesme oil
1/2 teaspoon ground ginger
1. Rinse the chicken wings and pat dry with kichen paper. Cut into pices at the joins and discard the wing tips. Spread the wings in a shallow backing dish, but do not overlap them.
2. Combine the remaining ingredients and pour the sauce over the wings. Marinate overnight in the refrigerate.
3. Heat the oven to170C /325F/gas 3 and bake the chicken wings in the marinade for 1 1/2 hours. Serve warm.