Serves 6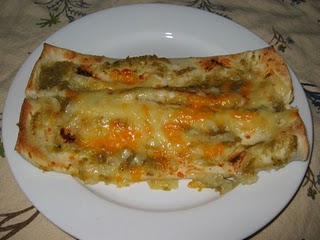 Fibre 2.1g, protein 35g, fat 35g
Calories/serving: 490
WW points per serving: 10
1 recipe Pasta Crepes
675g/1 1/2lb minced pork
3 cloves garlic, peeled and finely chopped
3 teaspoons chilli powder
45ml/1 1/2floz cider vinegar
1 tablespoon olive oil
30g/1oz chopped onion
25oml/8floz prepared tomato sauce or passata
25oml/8floz water
1/2 teaspoon ground cumin
6 drops Tabasco sauce, or to taste
1 teaspoon salt, or to taste
18og/6oz Cheddar cheese, grated
1. Prepare 12 Pasta Crepes and set aside.
2. In a bowl combine the minced pork, garlic, 2 teaspoons of the chilli powder and the vinegar.
3. Heat the oil in a frying pan and saute the onion over a medium heat for 3 or 4 minutes until soft.
4. Add the pork mixture to the onion, and fry until brown. Cook thoroughly, then pour off all the fat and set the pork aside.
5. In a saucepan make the sauce by combining the tomato sauce or passata, water, cumin, the rest of the chilli powder, the Tabasco sauce and salt. Simmer for 30 minutes.
6. To make the enchiladas place i tablespoon of the sauce, i tablespoon of cheddar cheese and one-twelfth of the pork mixture down the centre of each crepe. Fold the sides over the centre and place, seam-side down, in a baking dish. Pour the remaining sauce over it all and bake for 15 minutes. Cover with the remaining cheese and bake for 5 minutes more or until the cheese is hot and bubbling.