Garlic and herb roasted potatoes
Serves: 4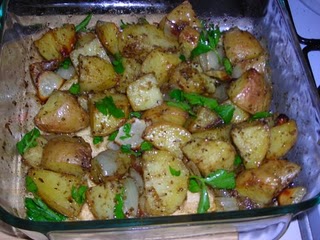 Calories/serving: 89
WWpoints per serving:2
Preparation time: 1 5 minutes
Cooking times: 45 minutes
450g (1 lb) potatoes
8 garlic cloves with skin intact
2-3 sprigs fresh rosemary
2-3 sprigs fresh thyme
2 tablespoons light soy sauce
chopped fresh flat-leaf parsley to garnish
salt
1. Preheat the oven to 200C, 400F, Gas Mark.
2. Cook the potatoes in lightly salted boiling water. Drain and place in a non-stick roasting tin.
3. Dot the garlic and herbs over the potatoes, pulling the herb leaves away from the stems. Drizzle with soy sauce and toss the potatoes to coat them with the mixture.
4. Place in the oven and roast for 35-45 minutes, shaking the pan occasionally to prevent sticking.
5. Transfer to a serving bowl and garnish with parsley.