Serves 2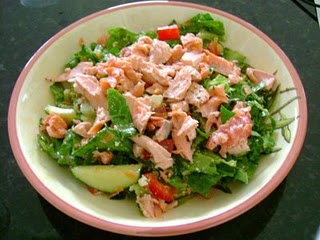 Fibre 3.1g, protein 40g, fat 33.5g
Calories/serving 488
WWpoints per serving 10
* 2 salmon fillets
* whole leaves of 1 chicory head
* 1 small tomato, peeled and quartered
* 1 small ripe avocado, stoned pelled and diced
* 1/4 small onion, peeled and diced
* 6 stoned black olives
* 2 tablespoons/servings Lime Dill Dressing
1. Place the salmon fillets in a saucepan, cover with wateh and add seasoning ( such as fresh parsley, slice of lemon or black pepper). Cover the pan and simmer the fish for 7 to 10 minutes,
until cooked. Remove the fish from the pan. allow to cool, then cut into 2.5cm/1 in wide stips.
2. Wash and dry the chicory leaves. Chop the tomato, avocado, onion and olives and mix together in a bowl.
3. place the chicory leaves in a daisy formation in a round, shallow salad bowl.
Place strips of the salmon in each of the chicory leaves and dot with Lime Dill Dressing.