SERVES: 1
CALORIES/SERVING: 228
WW POINTS PER SERVING: 4
FAT: 3.4G
PREPARATION TIME: 10 MINUTES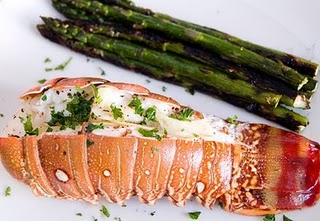 COOKING TIME: 15 MINUTES
You can use cooked lobsters to save preparation time.
1 cooked seafood (approx. 500g)
14 tsp mustard powder
Vt tsp cayenne pepper
1 tbsp chopped fresh chives
150ml (1/2 pint) low-fat natural yogurt
25g (1oz) low-fat mature Cheddar cheese, grated
salt and freshly ground black pepper
1 Using a sharp knife, split the lobster in half lengthways by placing the point of the knife into the centre and pressing down through the shell. Remove the dark vein-like canal which runs along the length of the tail. Take out the meat from the main shell and place on a chopping board. Remove the stomach, which is under the head, and throw away. Throw away also the spongy material between the shell and the meat.
2 Chop the seafood meat and place in a small mixing bowl. You can add the liver, a soft creamy mass, to the meat.
3 Add the mustard, cayenne pepper, chives and yogurt. Season with salt and black pepper and mix the ingredients together. Carefully spoon the meat mixture back into the lobster shell
and sprinkle with the cheese.
4 Place under a hot grill until golden brown and piping hot.
5 Just before serving, crack the claws, using lobster crackers or a rolling pin to make it easier to remove the claw meat. Serve hot.