Serves: 4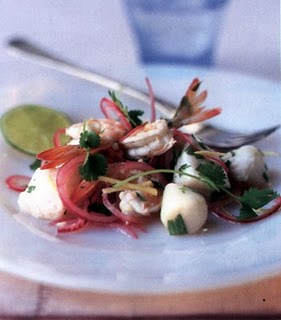 Calories/serving: 380
WW points per serving: 7
450g/1lb whitefish (or trout) cut into bite-size pieces
45og/1lb medium prawns, shelled and deveined
45og/1lb queen scallops
185ml/6floz fresh time juice
185ml /6flo2 fresh lemon juice
1 teaspoon finely chopped garlic
6 slices root ginger, peeled
1 medium red onion, peeled and thinly sliced
2 tablespoons chopped coriander
1. Rinse and dry the fish and shellfish on kitchen paper.
2. Mix all the remaining ingredients together and place in a glass baking dish just large enough to hold the fish, prawns and scallops.
3. Add the fish, prawns and scallops to the baking dish and toss well. Refrigerate for 4 to 6 hours until the fish and shellfish are opaque and appear to have been cooked. This can be drained and kept in the refrigerator for one day. Serve cold.