Serves: 2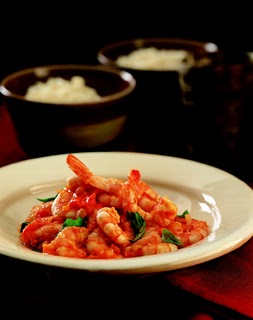 Fibre 1.3g, proetin 59g, fat 24g
Calories/serving: 510
WWpoints per serving: 10
3oml/1ftoz olive oil
8og /30z finely chopped onion
2 cloves garlic, peeled and finely chopped
900g/2lb raw prawns, shelled and deveined
225g/8oz prepared tomato sauce or passata
1/4 teaspoon dried oregano, or
3/4 teaspoon fresh, finely chopped
1 tablespoon finely chopped basil
alt and freshly ground black
pepper to taste
225g/8oz mozzarella cheese, shredded
2og/1 1/2oz Parmesan cheese, grated
1. Preheat the grill.
2. Heat i tablespoon of the oil in a frying pan. Saute the onion until golden, add the garlic, and saute for i minute. Add the prawns and saute for 3 minutes, then remove from the pan and place in a baking dish.
3. Heat the remainder of the oil in the frying pan and add the tomato sauce or passata, oregano and basil. Simmer for 15 minutes. Add salt and pepper. Pour the sauce over the prawns and add the shredded mozzarella cheese on top. Top with Parmesan and grill until bubbling.