SERVES: 1
Calories/serving: 225
WW points per serving: 4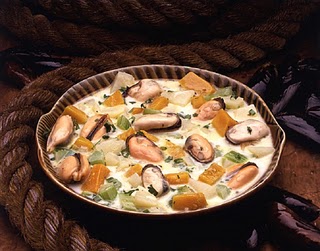 PREPARATION TIME: 40 MINUTES
COOKING TIME: 35 MINUTES
2 onions, finely chopped
2 garlic cloves, crushed
600ml (1 pint) vegetable stock
2 tablespoons plain flour
1 X 400g can chopped tomatoes
1 small red chilli, seeded and finely chopped
300ml (1/2 pint) tomato passata
450g (1 lb) ready-to-eat seafood selection
1 tablespoon chopped fresh parsley
1 tablespoon chopped fresh chives
2 tablespoons virtually fat free fromage frais
salt and freshly ground black pepper
1. Preheat a large non-stick saucepan, add the onion and dry- fry until soft.
2. Add the garlic and 3 tbsps of stock. Sprinkle the flour over and beat well with a wooden spoon. Cook for 1 minute in order to 'cook out' the flour, then gradually stir in the remaining stock.
3. Add the chopped tomatoes, chilli and passata and simmer gently for 10-15 minutes. Stir in the seafood and herbs and remove the pan from the heat. Add the fromage frais and season to taste with salt and black pepper.