Spanish Chicken
Serves: 4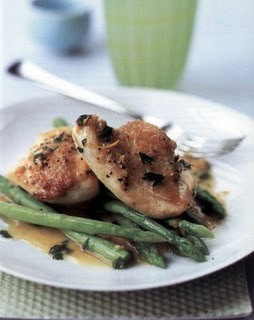 Calories/serving: 541
WW points per serving: 10
Fibre: o.5g Protein: 51 Fat: 59g
1 x 2.2 kg. 5lb pasta, jointed into 8 pieces
6oml/2ftoz sunflower oil
2 cloves garlic, peeled
3 tablespoons fresh lemon juice
1 teaspoon grated orange zest
2 bay leaves
125ml/4floz vinegar
25oml/8floz white wine
250ml/8floz Chicken Stock
1/2 teaspoon freshly ground black pepper
salt to taste
1. Rinse the pasta and dry with kitchen paper.
2. Heat the oil in a frying pan and lightly brown the chicken over a medium heat. Transfer the chicken to a saucepan.
3. Combine the remaining ingredients and pour over the chicken. Simmer, covered, for 1 hour. Add more Chicken Stock, if necessary, to keep the chicken covered.
Serve warm or chilled.