Serves: 1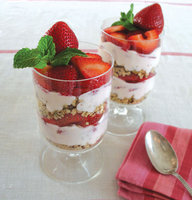 Fibre 3g, protein 6.5g, fat 9g
Calories/serving: 160 WW points per serving 3
6og/2 1/2oz ripe strawberries sliced
2 teaspoons granular sugar substitute
125ml/4floz plain whole milk yogurt
1/8 teaspoon almond or coconut essence
1 tablespoon lightly toasted sliced natural almonds, lightly crushed
1. Sprinkle the strawberries lightly with V8 of a teaspoon of sugar substitute.
2. Mix the yogurt, remaining sugar substitute and almond or coconut essence together in bowl.
3. Spoon one-third of the yogurt mixture into the bottom of a tall glass. Top with half of the strawberries. Cover with most of the remaining yogurt, reserving about 2 tablespoons. Add the remaining strawberries, drizzle the remaining yogurt over the top and sprinkle with the almonds.